Wadding (also called Batting) for Quilting
When I first started out on my own quilting adventure, the only wadding (called batting in America) readily available was what I now know to be, craft wadding - that fluffy synthetic stuff which still makes my flesh crawl when I think about touching it!
However, these days, there is so much more choice out there, not only in different fibres, but also lofts and construction.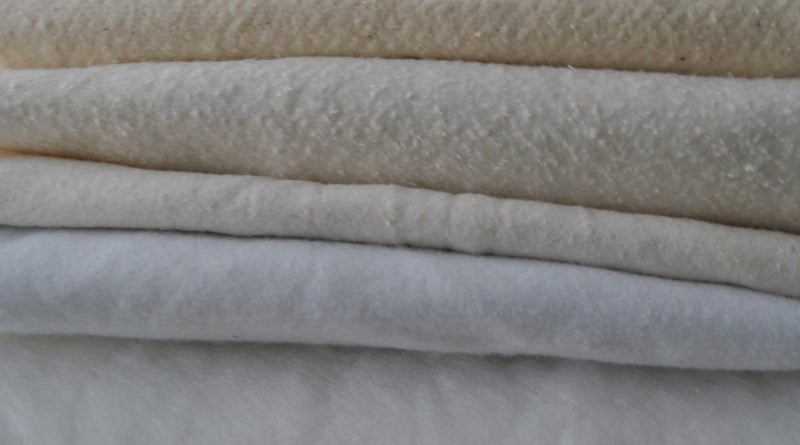 The two most popular waddings are cotton and polyester:
– The natural qualities of cotton mean that these waddings are breathable, and will keep you warm in the winter and cool in the summer. This is why it is recommended that quilts for babies up to 9 months be made from cotton waddings as at this young age, they are unable to push off the quilt if they get too warm. Cotton waddings also tend to be low loft - they are thin so don't 'puff up' much when you quilt. Although, sewing machine permitting, you could use two layers of cotton wadding if you did want some loft.
Due to their low loft, they tend to drape nicely and are warm and cuddly to hold. These waddings also 'stick' to the fabric so don't tend to move around much during the quilting process. Most natural waddings have a scrim - a non-woven fabric that the fibres are needle-punched into, locking them in to place so that they don't move or beard. This gives the waddings a firmness and strength ideal for quilting, while the stability means you can quilt lines at a further distance apart. If you do use a natural wadding with no scrim, you would have to quilt lines closer together to keep the wadding stable.
– Polyester waddings are synthetic so don't have the breathable qualities of cotton. If used in a bed quilt, they can get quite hot and stuffy in the hotter months, and definitely should not be used in quilts for young babies. These tend to be lighter in weight, so are easier to wash and dry - ideal for older children's quilts. The lightness in weight also makes them more manageable in larger projects. The absence of natural fibres mean these waddings are perfect for people with allergies. Poly waddings can also have a higher loft than cotton so will have more 'puff' when quilted.
Many quilters, myself included, tend to go for blended waddings, such as an 80/20 blend (80% cotton and 20% polyester) which give you the best of both worlds - not only do these waddings have the natural qualities of cotton, but the polyester makes it lighter in weight. One of my favourites is actually a recycled wadding, Sew Simple's Eco 70/30 blend, made from 70% recycled cotton, and 30% recycled polyester. It was a bit fluffy to work with which made my nose itch a bit, but the resulting weight and drape made the quilt so cuddly and warm, it was perfect. In fact Sew Simple produce a wide variety of waddings, their website is well worth a look.
Other fibre contents include wool, silk, and bamboo waddings. Wool is heavier than cotton so can be awkward to use in a big project. But it is also warmer. Like wool, silk wadding can be quite pricey but is a luxurious option. Meanwhile, bamboo wadding is lovely and soft, low loft, has a nice drape and is great for hand quilting.
Other things to bare in mind when choosing wadding will hopefully be answered by the label on the wadding;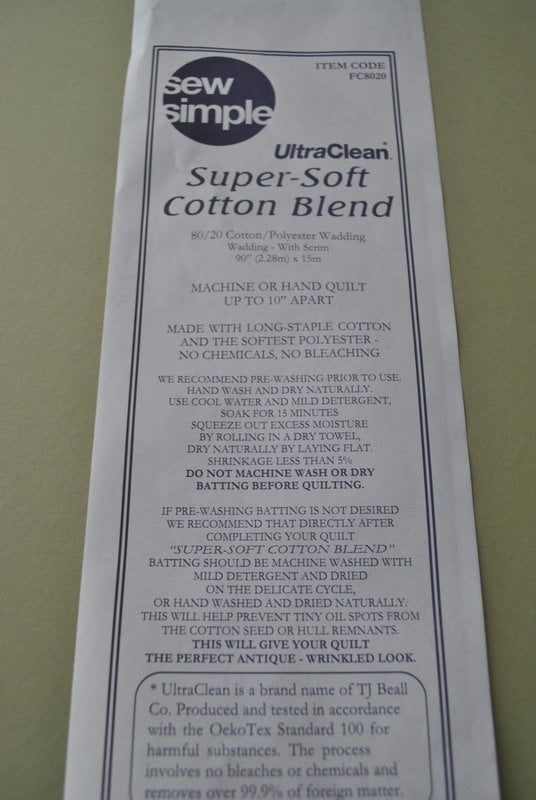 Shrinkage - this could be between 3 to 5%, or even more. If it is minimal, you don't have to pre-wash the wadding, in fact this is what helps create that 'antique' look after washing the quilt for the first time. However, if the shrinkage rate is high, you should pre-wash the wadding before quilting - I avoid these waddings as you have to handwash them... probably in a bath... not fun!
Colour - most waddings are off-white in colour, however, if you have used white or pale fabrics in your quilt top, you might want to use a bleached white wadding that won't show through your fabrics. If you have used dark fabrics, you may want to use a black wadding. You can even get a green wadding which is recycled from plastic bottles! I have used this one is a quilt, and unfortunately the green can be seen through the cream fabric, which was very disappointing! So best used with dark fabrics.
Hand or machine quilting - most waddings are fine for both, though a high loft is very difficult and awkward to hand quilt. Check the wadding label for more information.
Fusible waddings – these have a glue-like resin on the back and front, and when heated with an iron, will stick to your quilt top and backing, in other words basting your quilt sandwich. This is great for smaller projects, though I have found you do have to use a very hot iron!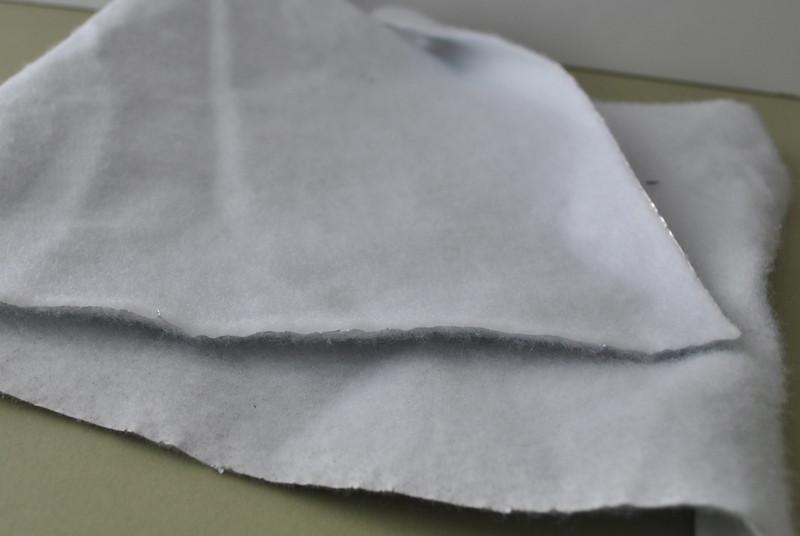 Insulated waddings – the heat-proof qualities for these make them ideal for placemats, oven gloves, pot holders, ironing board covers - anywhere where you need protection from a heat source. If you use a piece of cotton wadding either side of the insulated piece, you increase the protection even more – ideal for oven gloves.
Your quilt shop will be more than happy to suggest the best wadding for your project, so go and have a chat, or if online, send them an email. The quilting community is a very friendly one!