I have been featured in a number of articles, both submitting patterns to some of the UK's leading patchwork and quilting magazines, and also in pieces introducing the quilting world to Sewmotion. See below for more details.
Stars and Flowers Block-of-the-Month, British Patchwork & Quilting 2019
I was lucky enough to be asked to design this BOM series incorporating some of my favourite patchwork techniques to make this beautiful quilt. This quilt features Liberty of London's Cottage Garden prints with a "Linen Texture" background from Makower.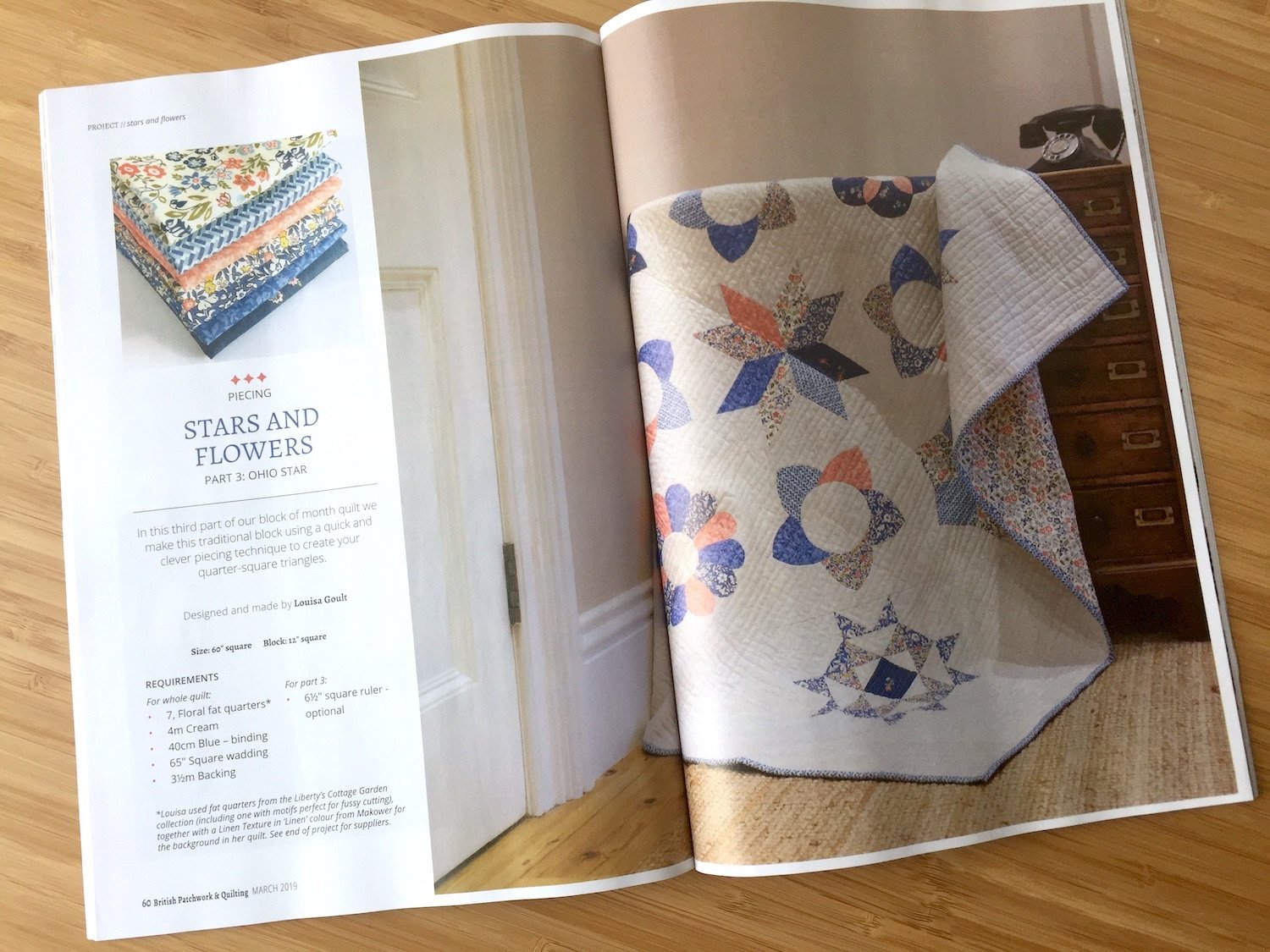 Mini Hoop Art - Love Patchwork & Quilting, Issue 71
This was another project using my favourite curved English paper-piecing technique to make this beautiful Hoop Art in Alison Glass's Road Trip prints. I do love this way of displaying mini quilts!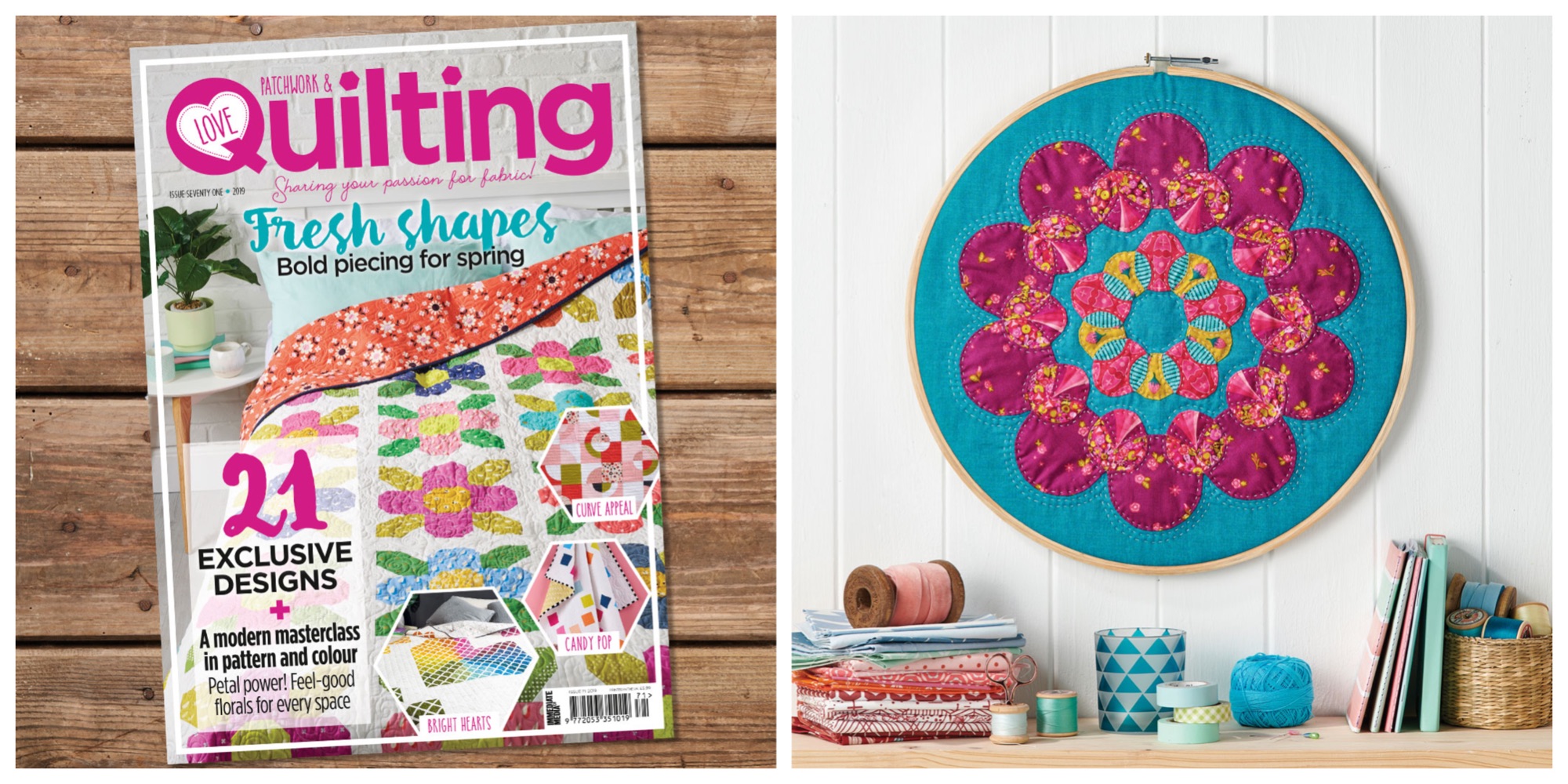 Large EPP Cushions - Love Patchwork & Quilting, Issue 68
This pair of EPP cushions featured large curved shapes for a quick construction, a great introduction to this hand piecing technique. Featured fabrics are Dovestone from Dashwood Studio and an Essex Yarn Dyed linen from Robert Kaufman,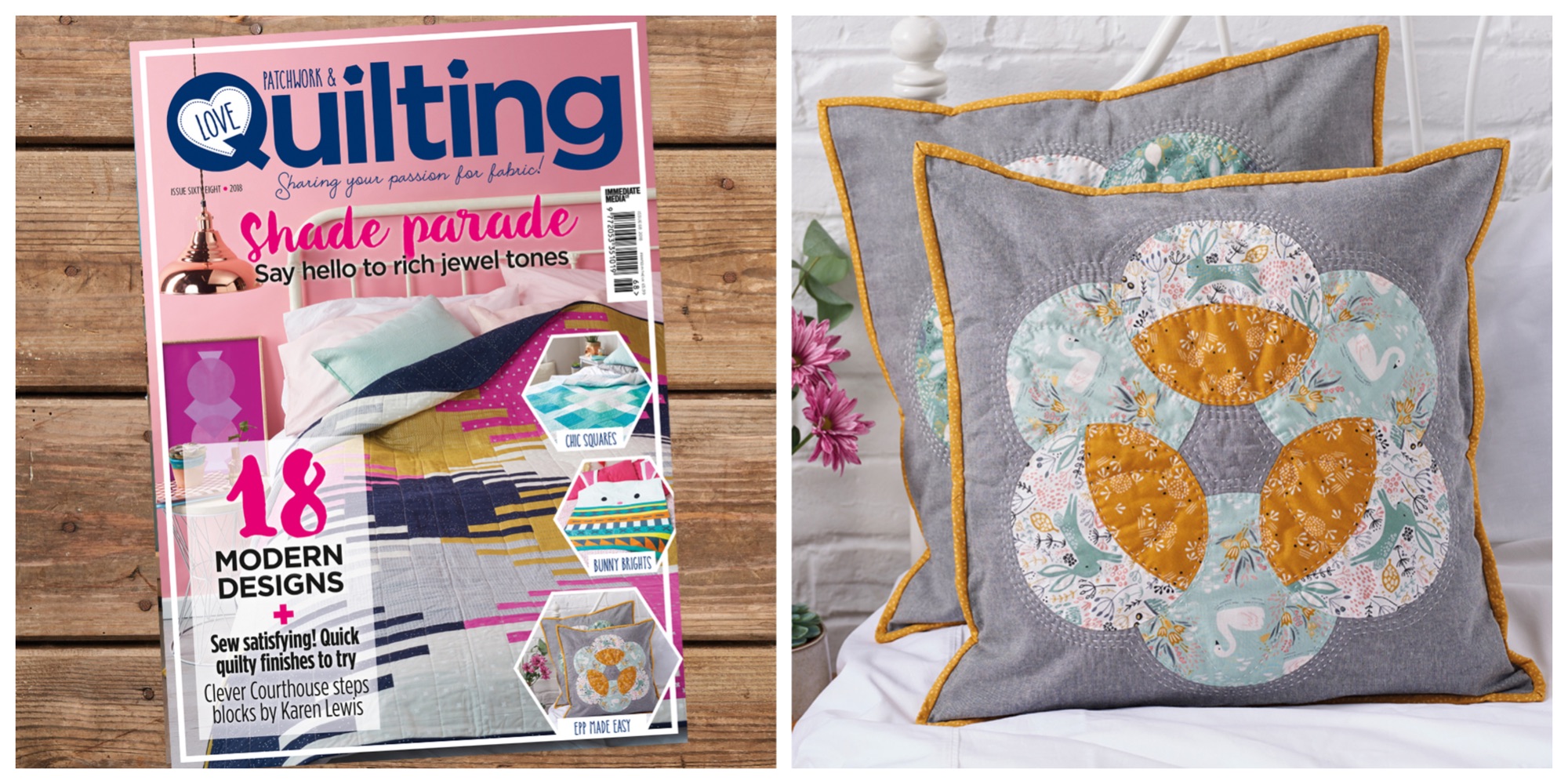 Flower Burst Cushion - British Patchwork & Quilting, October 2018
This cushion features curved EPP and was made in Makower's Sundance fabrics backed on to an Essex Yarn Dyed linen.
Modern Stars Baby Quilt - Love Patchwork & Quilting, Issue 67
These bold stars are made up of diamond shapes with a curved chunk taken out them which create the secondary ring shape at their centres.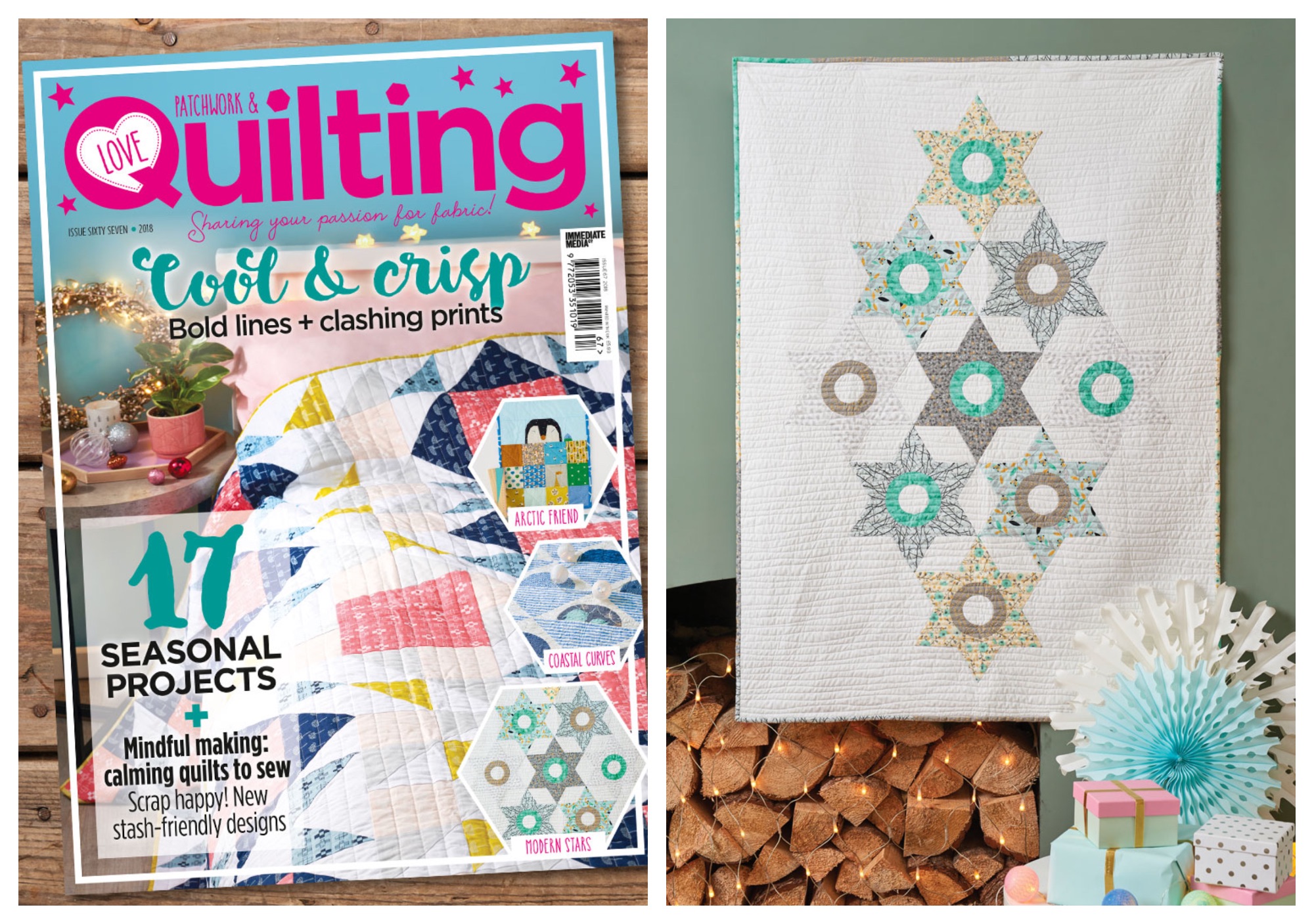 Wonky Squares Quilt & Cushion, Quilt Now, Issue 42
This quilt was made using an quick and easy freezer paper technique, and featured Riley Blake's Gingham Girls fabrics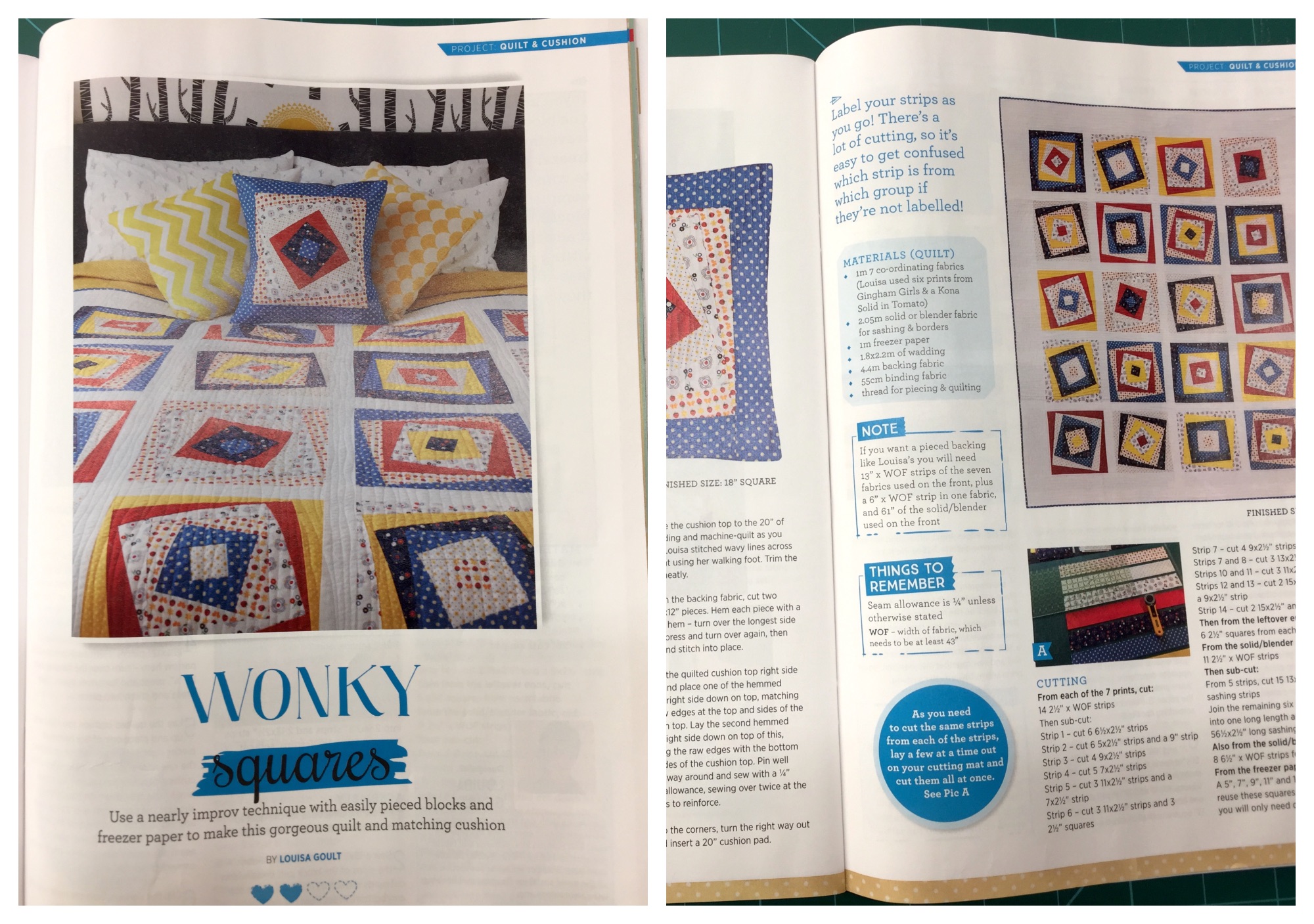 Rainbow Waves Bed Runner - Love Patchwork & Quilting, Issue 57
This colourfull runner and cushion set was created using my favourite technique of curved English paper-piecing, and featuring Alison Glass's Sun Prints fabrics backed onto a dark grey Linen print from Makower.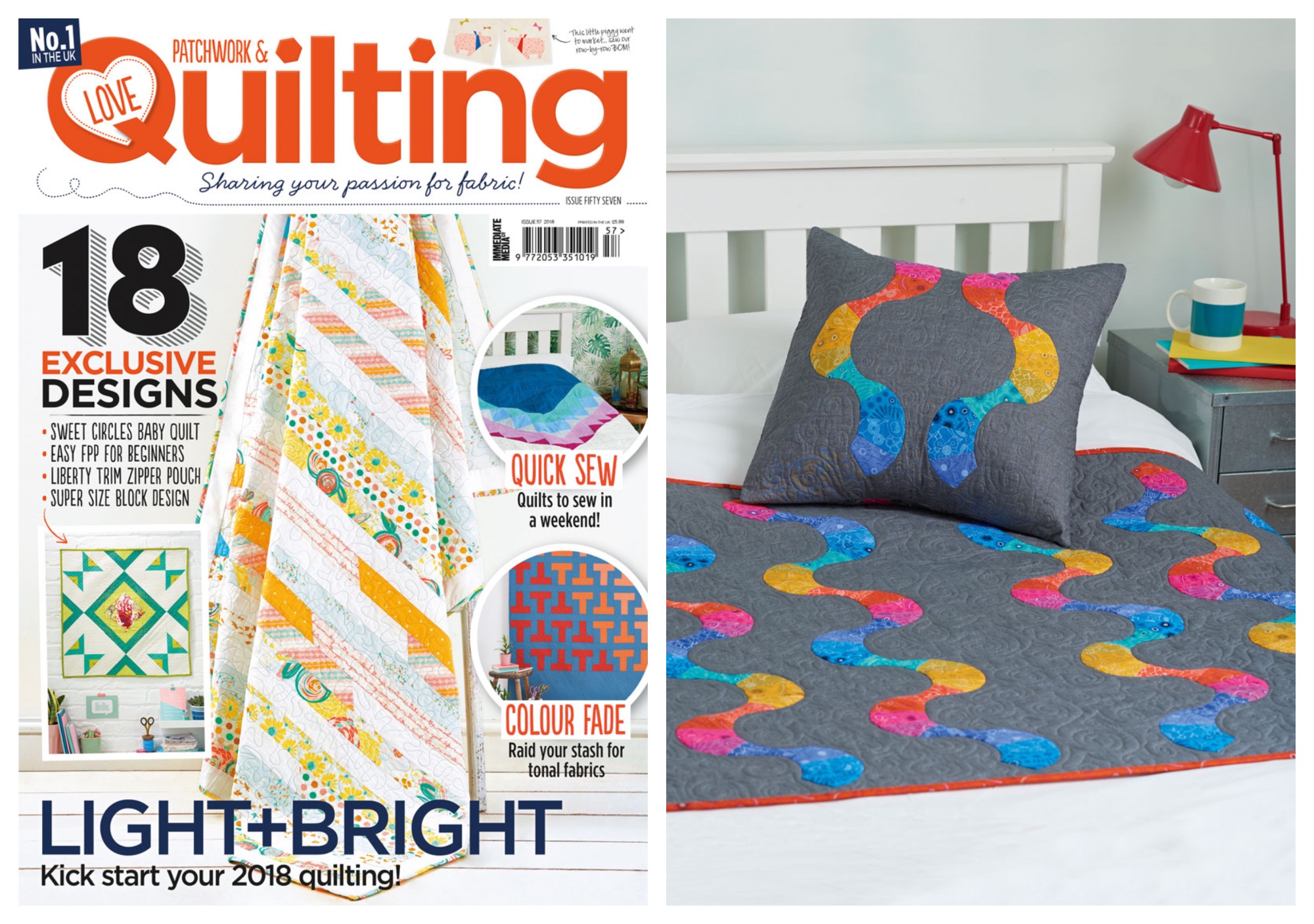 Sun Spell Wall Hanging - Love Patchwork & Quilting, Issue 56
This hypnotic hand quilted mini quilt is built up of English paper-pieced circular segments and fine fussy cutting using Dashwood Studio's Norrland fabrics. This wall hanging has also been featured on the Sewing Quarter TV channel.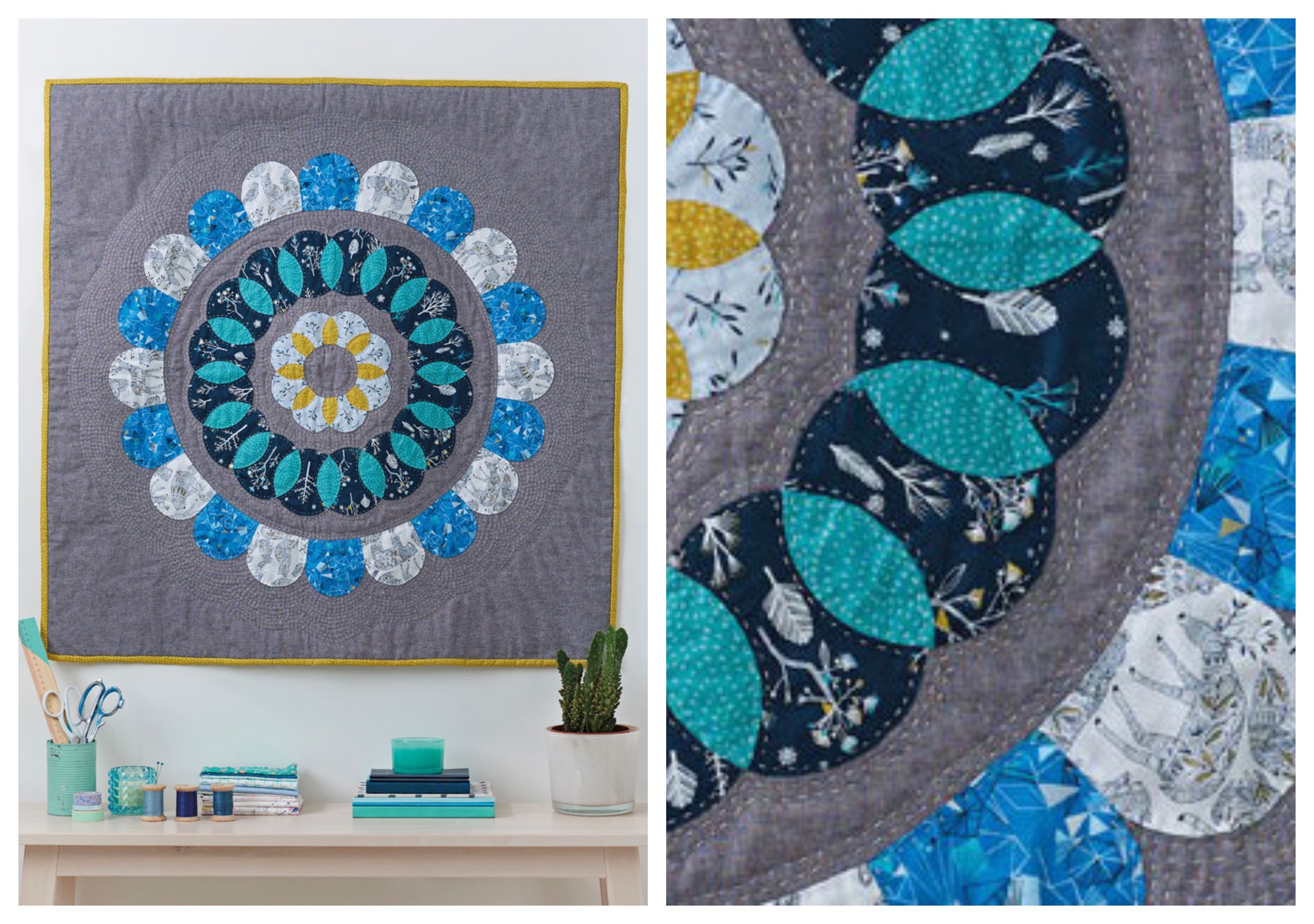 Patchwork of My Life - Popular Patchwork, October 2017
In this article I talk about my love of inspiring others to learn this wonderful craft and how I have built up my business.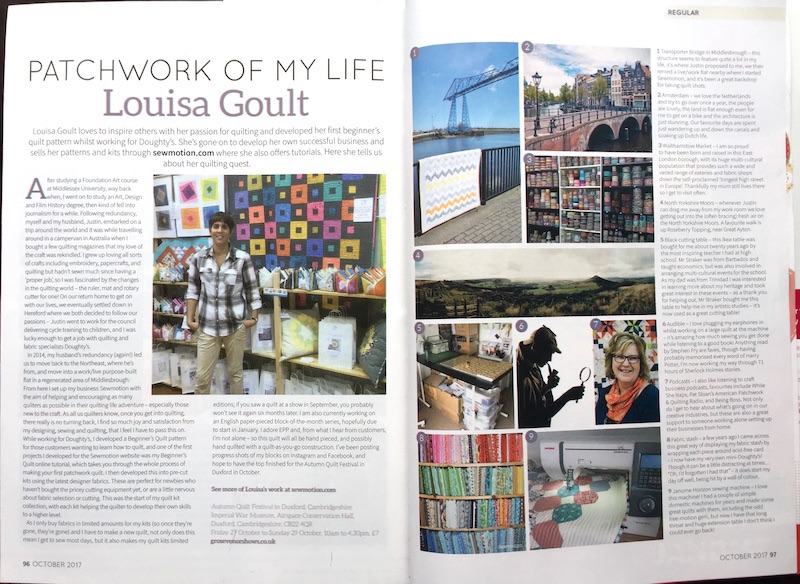 Curve Appeal - Love Patchwork & Quilting, Issue 48, 2017
For this English paper piecing project I played around with the hexagon shape, inserting a curved shape into each one, then playing with the fabric placement, created these circular secondary designs. Fabrics used were Cotton Candy by Dashwood, Kona Solids and Essex yarn dyed linen in Graphite from Robert Kaufman.
Lone Star Wall Hanging - Quilt Now, Issue 34, 2017
This rainbow lone star was made using English paper-pieced diamonds, appliquéd onto a gorgeous Essex yarn dyed linen. Fabrics used were from Karen Lewis's Blueberry Park collection.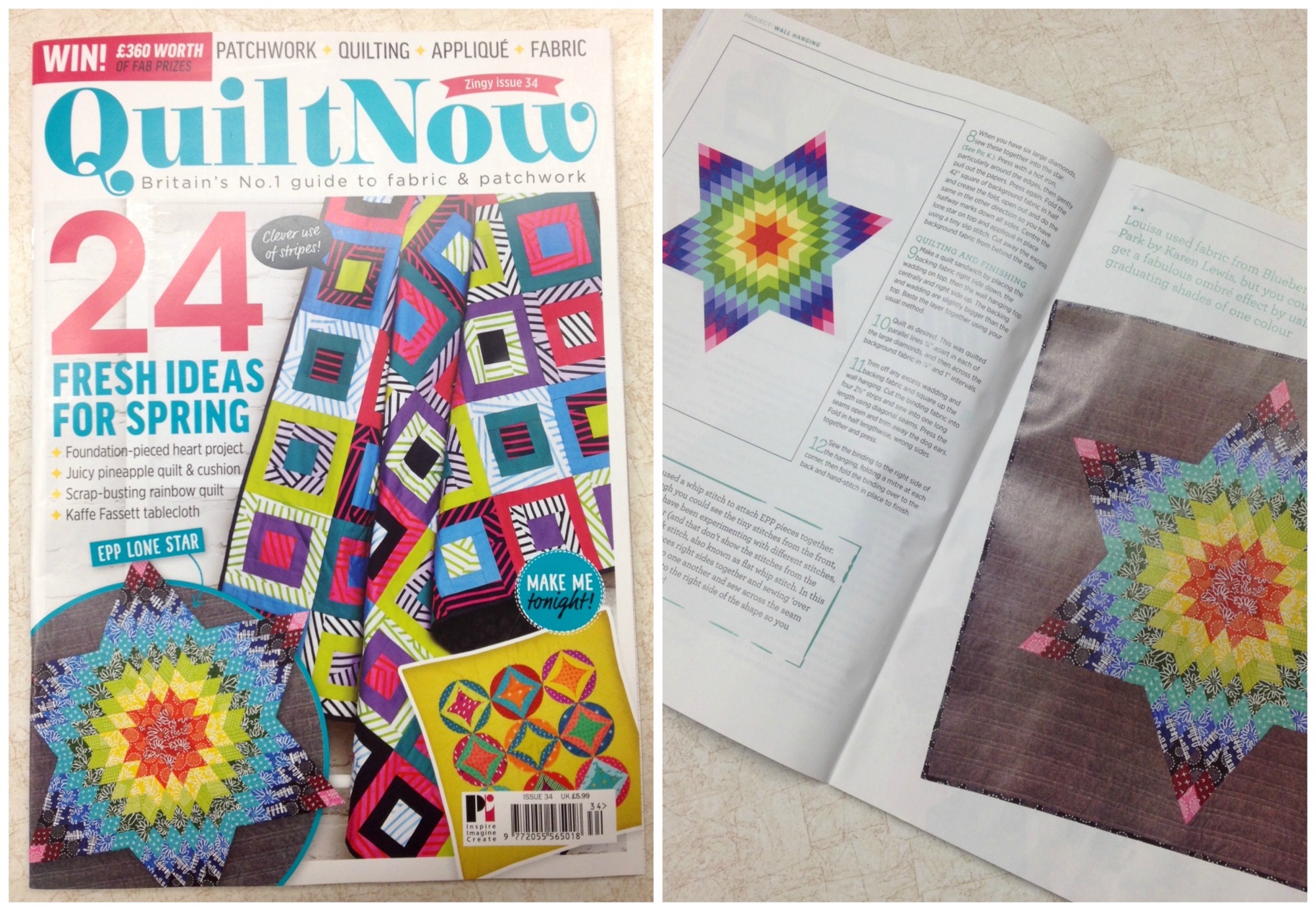 Fan Cushion - Popular Patchwork, March 2017
This bright cushion was an English paper-piecing project, made with these gorgeous Blueberry Park prints.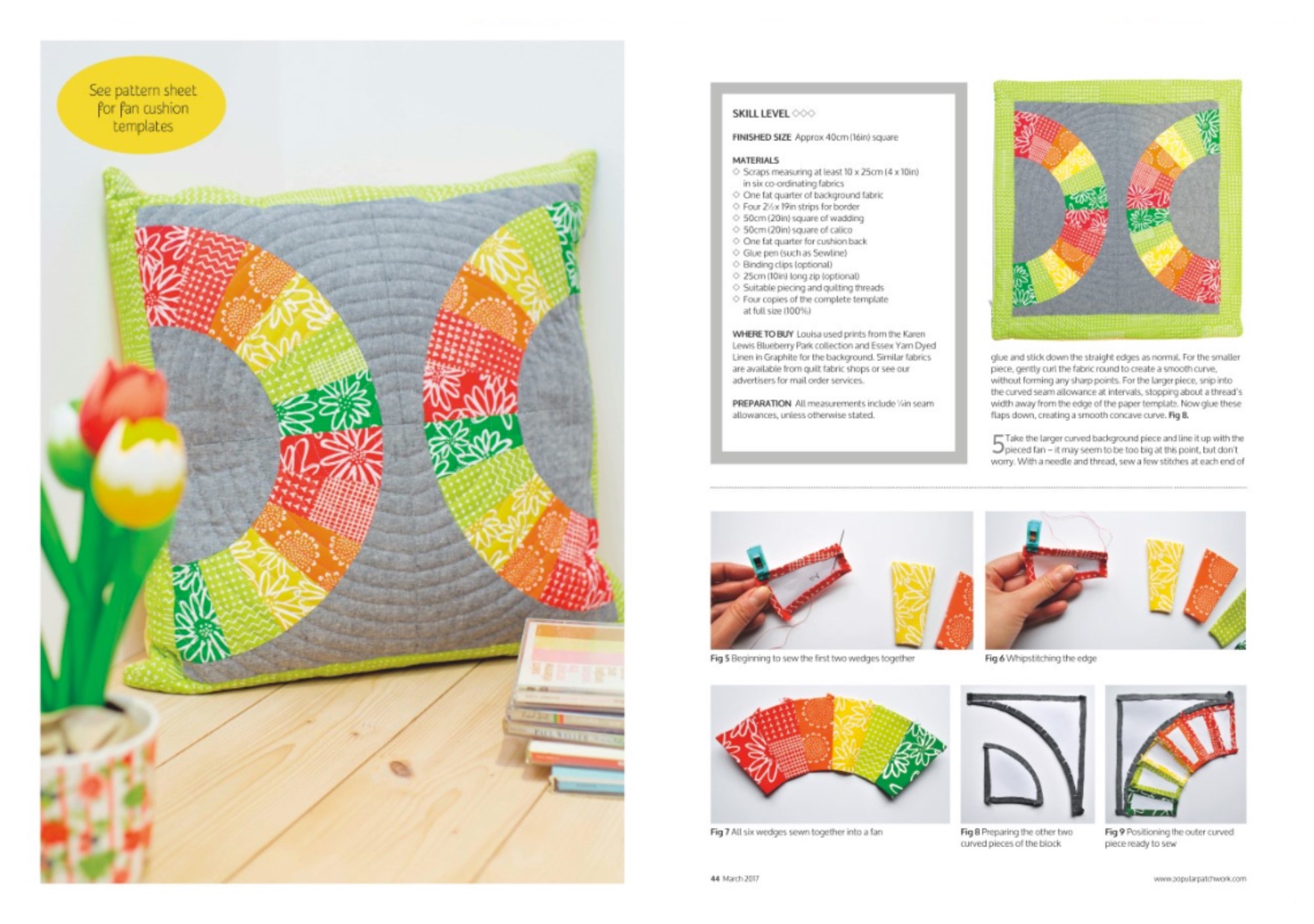 You're A Star - Quilt Now, Issue 32
These bright and funky cushions feature paper-pieced half-square triangles to make two lovely eight-pointed stars.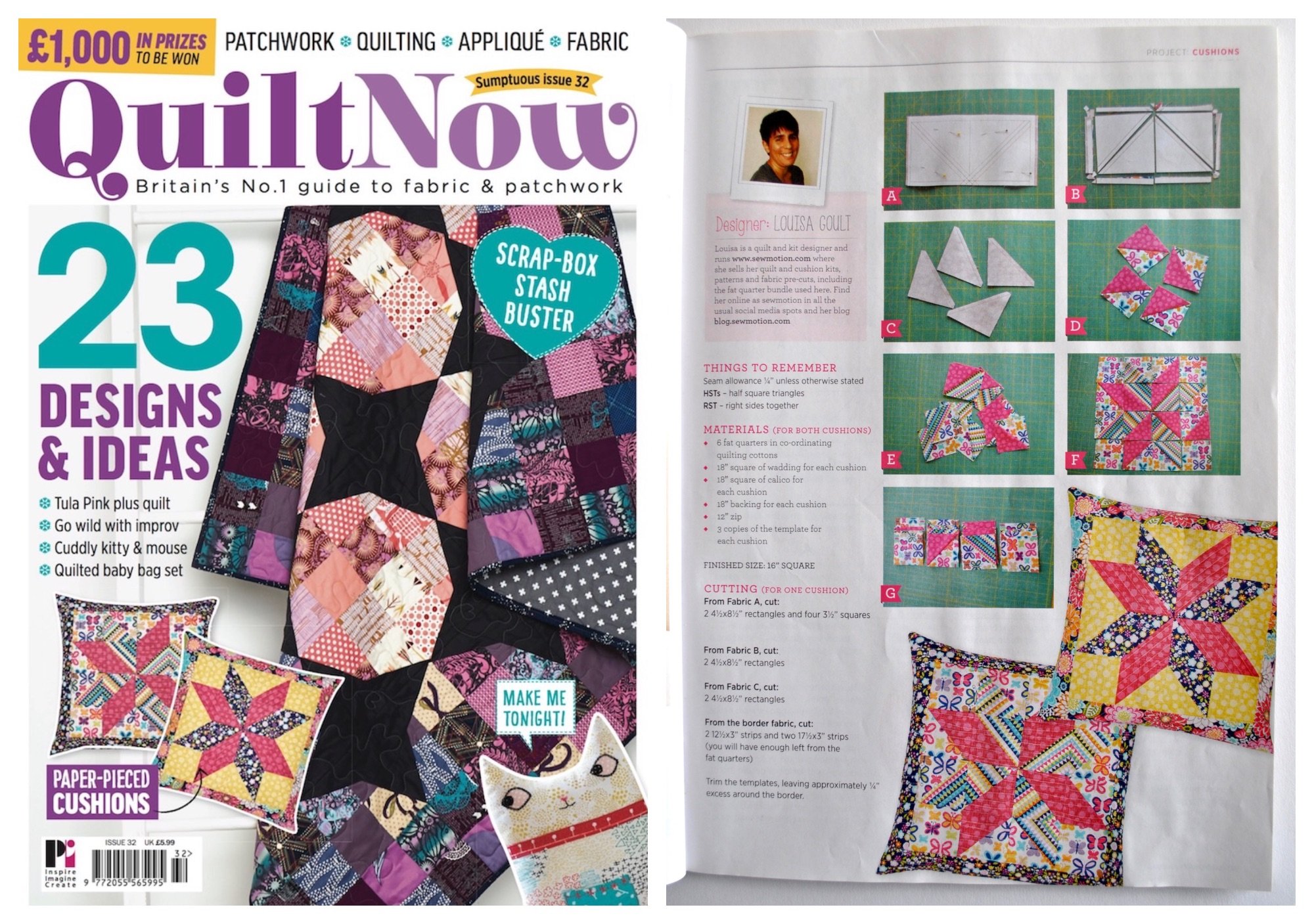 Staggered Placemats - Popular Patchwork, February 2017
These simple placemats use a 'tube technique' to create these pieced strips which are then sewn in a staggered formation to create this elegant design.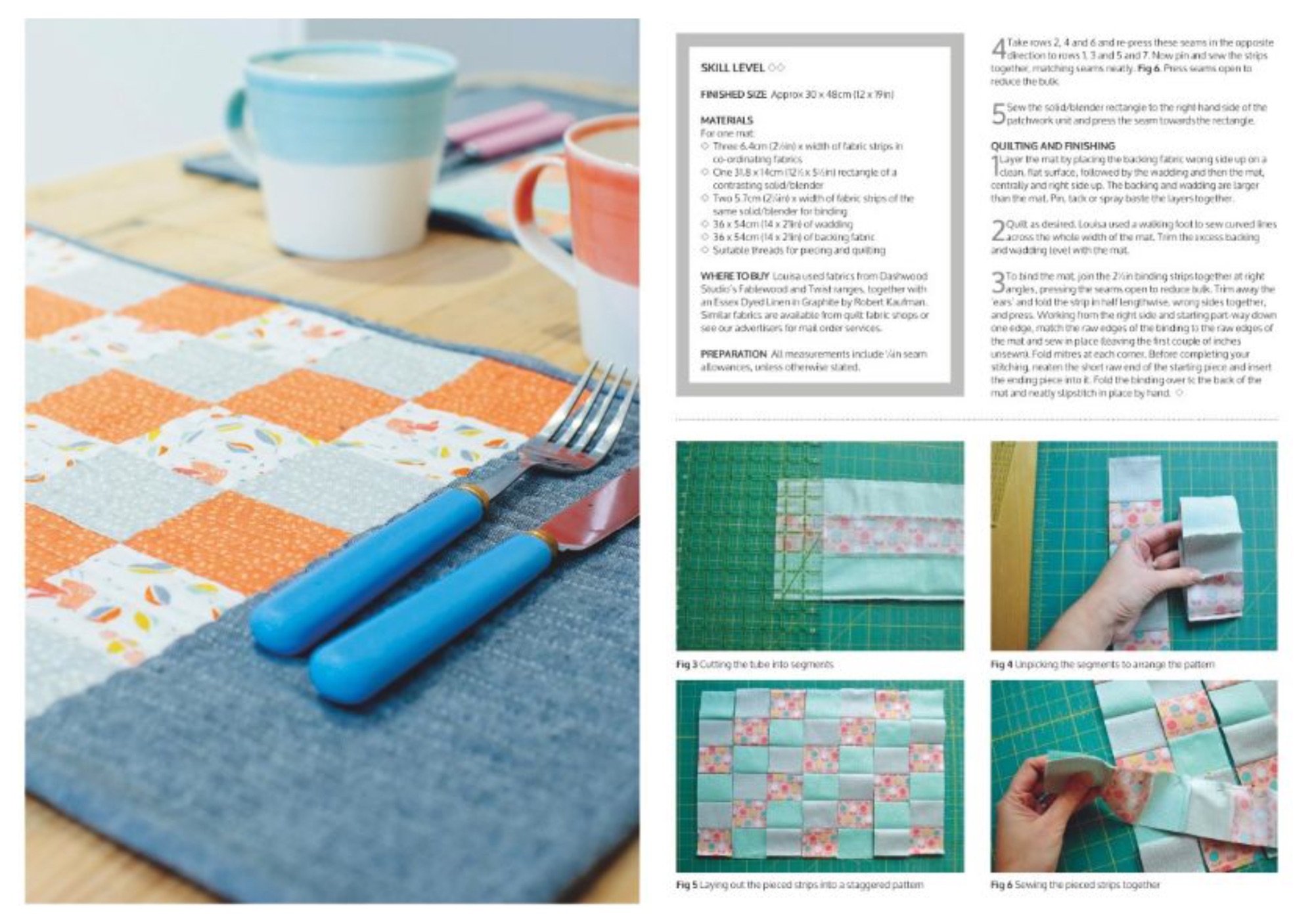 Charming Vintage Rose Quilt - Popular Patchwork, December 2016
This pretty quilt features Riley Blake's Backyard Roses fabrics and is made using a disappearing four-patch technique.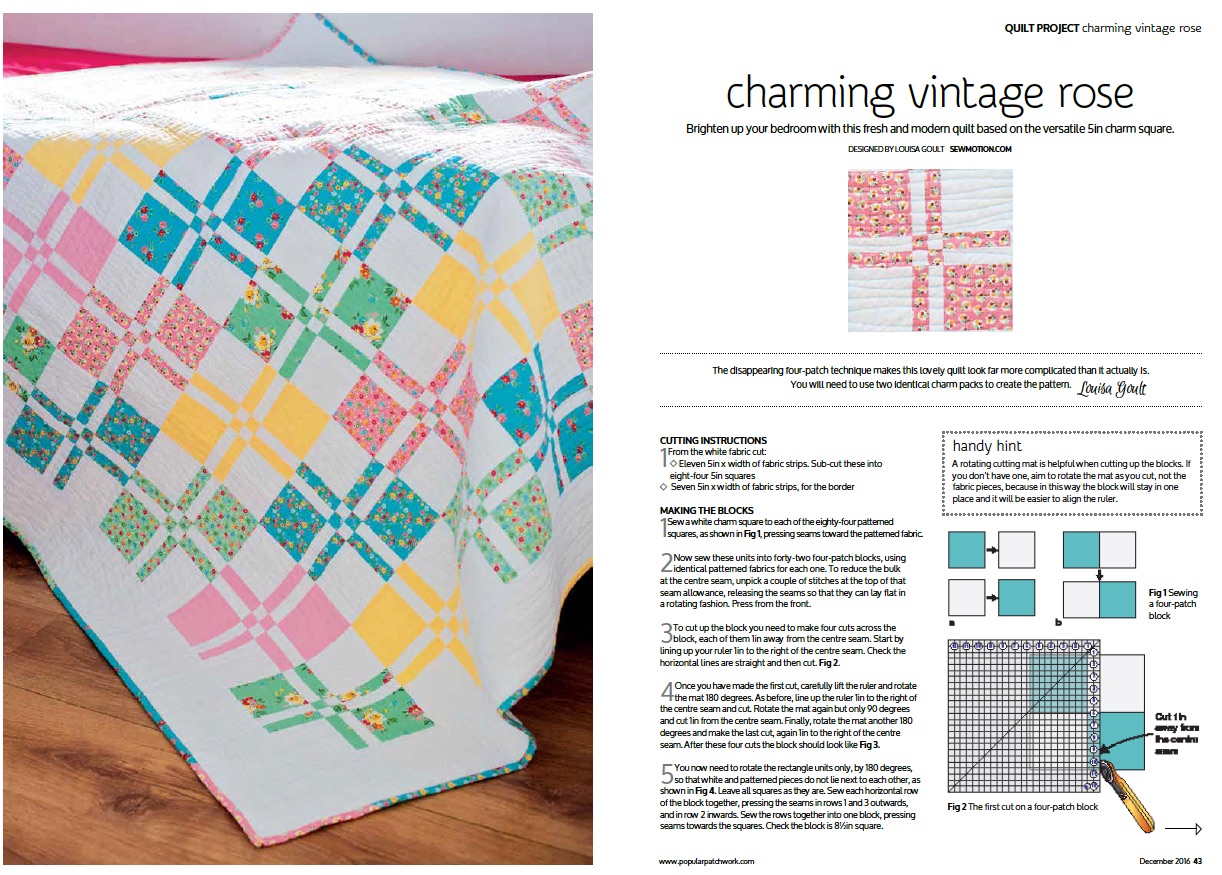 Tie-Dyed Bargello - British Patchwork & Quilting, July 2015
This colourful quilt was made in John Louden's Tie-Dyed Collection, and includes a complex table explaining the clever colour placement and tube technique.